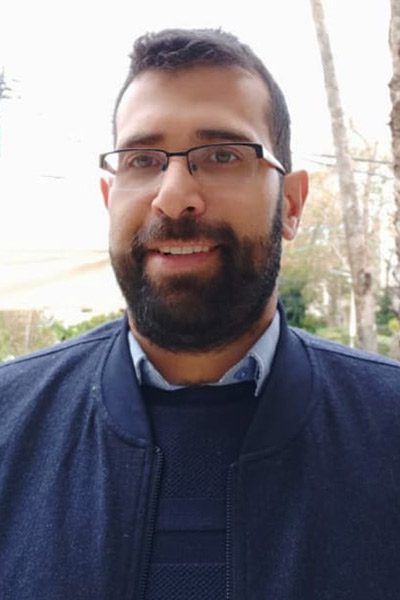 Amjad is a political and social activist, appointed Co-Executive Director of Sikkuy in March 2019, having worked in the organization for seven years: he originally joined Sikkuy in 2010 as co-director of the Equality Policy Department for egalitarian policy, filling this position for two years. Then, in 2014, he joined Sikkuy once again, as head of Sikkuy's public activities within the Arab society and as co-manager of the Representation Index Project, reviewing the representation of Arab society in Israel's Hebrew media.
In the past, Amjad had filled the role of secretary-general of Jewish-Arab youth movement Banki for six years, managed the parliamentary bureau of MK Dov Khenin (Hadash – Joint List), and worked as a reporter for Al-Ittihad, the only daily Arabic newspaper in Israel, and a member of its editorial board, as well as filling the position of content editor for the "Kol-Zchut" (=all rights) website in Arabic.
Amjad is involved in struggles and initiatives striving for the advancement of peace, equality and the defense of democracy. He regularly publishes op-eds in both Hebrew and Arabic on the struggles of the Arab society and of the Arab-Jewish partnership in Israel.
Amjad holds an M.A. in Political Science from the Hebrew University (2012) and an M.A. in Communication and Management from the College of Management (2001). He resides in Tira with his wife and daughter.
Regional Director, Naamat Southern Triangle
Maisam is a social activist, a feminist, and political organizer in Israel. In 2007, she was elected to the Histadrut and became the chairwoman of NAAMAT, the Hisdadrut's internal women's organization and the largest women's organization in Israel, as a candidate for the Hadash Party. Maisam has been organizing women in six Arab-Israel villages ever since. It was in this capacity that she helped organize one of the most massive, country-wide demonstrations in Israel's history last year to protest violence against women in Israel.
Maisam is also helping to build a shared future for Jews and Arabs in Israel. She is a member of the national leadership team of Omdim Beyachad (Standing Together), a grassroots Israeli movement that organizes Arabs and Jews in Israel around campaigns for peace, equality, and social justice. She sits on the board of Sikkuy, an organization that advocates for equal treatment and presence in public space for Arabs and Jews and Itach-Ma'aki: Women Lawyers for Social Justice.
Maisam holds a BA in Criminology and Sociology and an MA in Educational Leadership from Bar Ilan University. She lives with her family in Tira.
Director, Neve Shalom Think Tank
Ameer was born and raised in Acre, and today lives in Haifa with his wife Maisa and their three children. He is a lawyer, a political and cultural sociologist (he is currently writing a dissertation at Haifa University), and the director of the Neve Shalom/Wāħat as-Salām research institute. Ameer is involved in various grassroots political initiatives. Notable he is in the leadership committee of, "Two States One Homeland," focused on creating a peace model respecting the sovereignty of both nations, while challenging complete separation.
He is also also a facilitator to NGOs and dialogue groups. In 2018, Ameer edited the book, Attainable Alliances: the Case of the Palestinian Minority in the Israeli Political Field. The book includes articles from leading politicians, academics and activists on what is needed to create a political alliance between Jews and Arabs in Israel.
Standing Together leadership
Nisreen is a leader in the Standing Together movement,currently serving as their Community and Outreach Coordinator and the Haifa Circle Leader. Shehada is a Doctor of Chemical Engineering and Nanotechnology. She joined Standing Together as an organizer in the Haifa Circle. Since August 2017, Shehada has headed the networking and outreach efforts of Standing Together. In this capacity, she works to build cooperation between the movement and various communities of struggle throughout Israel with an emphasis on the social and geographical periphery and on engagement with marginalized groups.
Director, IDEA: Center for Liberal Democracy
Hillel, PhD, married + 3 – is the director of IDEA – Center for Liberal Democracy.
Hillel received his PhD in Jewish theology from the Hebrew University of Jerusalem in 2013 after dividing his study course between the Hebrew University, NYU and the Freie Universitat in Berlin. He publishes public and scholarly essays on classical Jewish theology as well as on Israeli politics and political theology.
His first book was recently published at Magness Press, and its English rendition is due to see light at Palgrave Macmillan later this year.
In recent years, Hillel served as Visiting Assistant Professor of Israel Studies at JTS, New York and as the head of Misholim, an honors program for political and civic education at Oranim Teachers' College. He also works as a content advisor for the Israeli President's Bureau.
From 2012 until 2015, following a period of grass roots political activism, Hillel joined Molad: The Center for the Renewal of Israeli Democracy, where he served as Director of Programs
Co-Director, Mahapach-Taghir
Fida is the Co-Director at Mahapach-Taghir. She was born in was Nazareth, and grew up in Neve Shalom, an Arab-Jewish village.
She has two daughters.
Fida holds a bachelor's degree in Social Work from Tel-Hai College and a master's degree in Gender Studies from Bar Ilan University. She is a member of the National Secretariat of Hadash – The Democratic Front for Peace and Equality. Fida is on the Hadash list (number 8) for the 2019 elections.
Besides her passion for learning, Fida is committed to advancing social justice. For the last 25 years, Fida has dedicated her life to women's empowerment and social change. Her activism started at a young woman Volunteer at the Hotline for Victims of Sexual Violence.
Fida worked as coordinator of the Awareness Raising Project at "Women Against Violence" for 13 years and was promoted to the Director of the Social Change Unit at Women Against Violence.
Fida began her work at Mahapach-Taghir as Co-Director in 2013. Mahapach-Taghir means 'change.' The organization is a feminist grassroots Jewish-Arab initiative for social change, established to promote a shared society in Israel with equal opportunities for all.

CEO Arab Center for Alternative Planning
Samer is the director of the Arab Center for Alternative Planning, which addresses issues of planning and construction in Arab localities. He  also is facilitator for groups at Neve Shalom focused on conflict resolution. Previously, Samer served as head of the Arab Student Committee at the University of Haifa. He is secretary of the Arab-Druze initiative calling for an end to mandatory military conscription for Druze and is a member of the Hadash Party national secretariat. Samer holds a master's degree in democracy studies from the University of Haifa, and is currently working on his dissertation. He and his family live in Haifa.